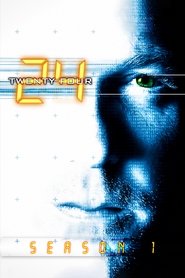 24 Season 1 Episode 1
Counter Terrorist Unit agent Jack Bauer is assigned to protect presidential candidate David Palmer from a potential assassination attempt. Unfortunately, his daughter has disappeared and someone within CTU may be involved. Mandy seduces Martin Belkin, a photographer headed for a meeting with the Senator.
Views: 497
Serie: 24
Guest Star: Carlos Bernard, Devika Parikh, Jacqui Maxwell, Karina Arroyave, Matthew Carey, Mia Kirshner, Michael O'Neill, Penny Johnson, Richard Burgi, Rudolf Martin, Xander Berkeley
Episode Title: 12:00 A.M.-1:00 A.M.
Air Date: 2001-11-06